Vandal Proof Division 10 Specialties & Washroom Accessories
Stop wasting time and money replacing your public restroom fixtures - Buy it Once, Install it Once!
Industry Leading 10-Year Vandal-Proof Warranty
We are so confident in our products that we offer the industry's best warranty that specifically gives our customers protection against vandalism. If one of our qualifying products is vandalized to the point where it is no longer functional we will repair or replace.
Other companies will advertise a long warranty but look in the details and you will see they will not warranty a vandalized dispenser. At Vandal Stop we believe our products are the best and we back them up with the best warranty.
Vandal-Resistant Assurance for Facility Maintenance
At Vandal Stop, we understand the daily challenges faced by facility maintenance teams in combating vandalism. That's why we're proud to offer our industry-leading 10-Year Vandal-Proof Warranty. We stand confidently behind the durability of our products, offering unparalleled protection against vandalism.
Unlike other warranties that exclude damage from vandalism, our comprehensive warranty covers it. If any of our qualifying vandal-resistant products become non-functional due to vandalism, we'll repair or replace them. This commitment reflects our belief in the exceptional strength and reliability of our solutions.
Your Trust, Our Guarantee
We're not just selling vandal-resistant products; we're offering peace of mind. With Vandal Stop, you're not just purchasing a product; you're investing in lasting protection. Contact us about how our warranty can serve your facility's needs.
Stop Paper and Soap Supplies from Being Pilfered!
Vandal Stop Products are the right solution for your needs. We design vandal resistant division 10 specialty restroom dispensers and fixtures to prevent costly repairs from vandals, transient populations and high customer use.
Buy it Once, Install it Once...
Perfect for facilities that endure high traffic such as Parks, Schools, Libraries, Homeless Shelters, Comfort Stations and more. We believe strongly in "Buy it once, install it once...".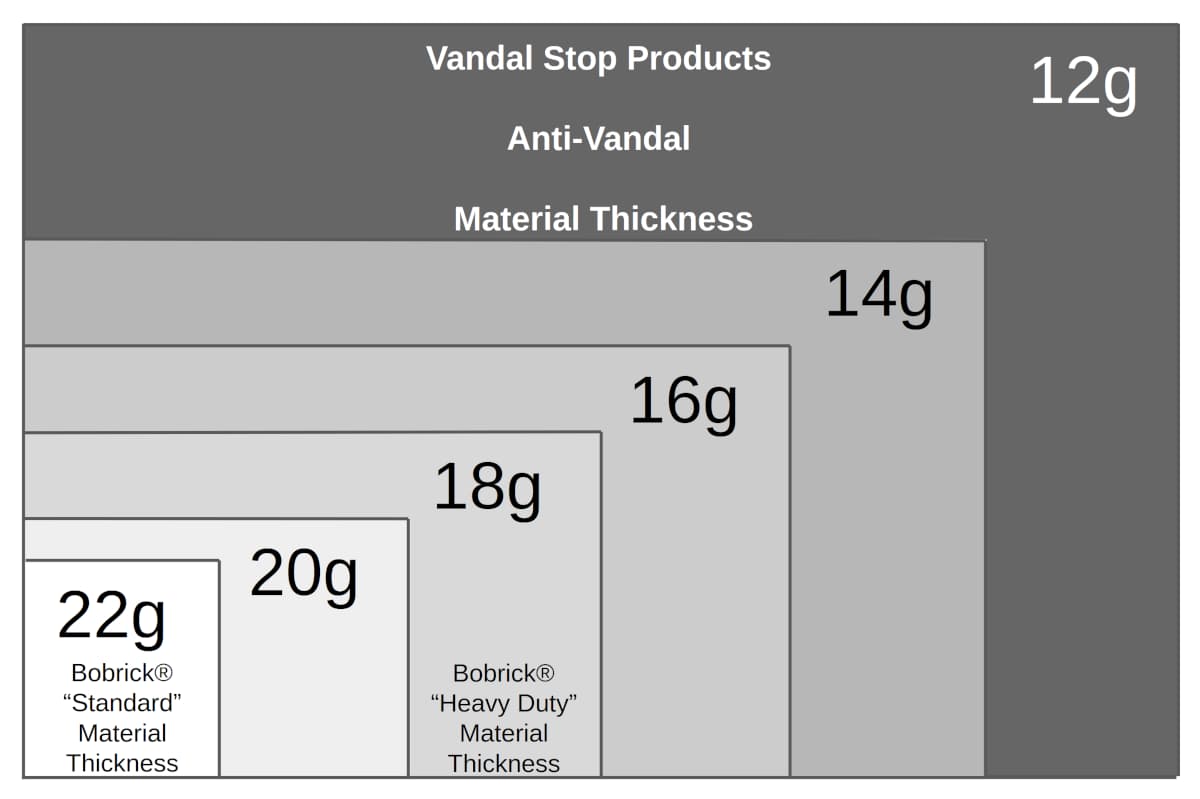 Save Your Budget
Fixtures pay for themselves in as little as 3 years & generate savings thereafter!
ADA Compliant
We offer many toilet paper holders that meet ADA Operating Requirements.
Heavy Duty 12g Stainless Steel
2X to 4X thicker than other leading brand toilet paper holders.
Division 10 Specialties
Focused on vandal resistant solutions for public facilities.
High Capacity
We offer 3, 4 and even 5 roll toilet paper holder options for maintenance flexibility.
Protected Locks
Prevents thieves & vagrants from stealing expensive toilet paper holder supplies.
Corrosion Resistant
304L & 316L (for Marine applications) provides years of rust free service.
3/8" Mounting Holes
Prevents vandals and homeless from breaking toilet paper holders off of walls.
Glass Free Mirrors
Protects liability with polished stainless steel reflective surface eliminates glass.
Made in the USA
American sourced materials and labor invests in our country and gives back to the community.
Best Warranty in the Industry
5 Year Standard and 10 Year Vandalism Protection.
Veteran Owned Small Business
Three generations of Veteran owned small business.
Proudly Made in the USA
Vandal Stop proudly stands as a testament to American craftsmanship and the enduring spirit of service. As a Certified Disabled Veteran-Owned Small Business, our roots run deep with a legacy that spans over three decades, beginning in 1985.
Our commitment to manufacturing in the USA is not just a business choice; it's a reflection of our dedication to quality, resilience, and supporting the local economy. Each product we create is a symbol of American ingenuity, meticulously crafted to meet the highest standards of performance and reliability.
Our journey, enriched by the involvement of three generations of family and veterans, underscores our unwavering dedication to excellence. This rich heritage shapes our understanding of the challenges faced by facility maintenance personnel, especially in combating vandalism. it.
By choosing Vandal Stop, customers are not just selecting a product; they're embracing a legacy of American-made quality and the integrity of a family and veterans committed to providing effective, durable solutions for every facility's needs.
About VandalStop
Our Product Ideas Come From Our Customers
At Vandal Stop, we believe that the best products are born from listening closely to those who use them.
Our approach to design and manufacturing is deeply rooted in collaboration with our customers. We understand that each facility has unique challenges, and our goal is to provide tailored solutions that meet these specific needs. Whether it involves customizing our existing products or innovating new ones, we are committed to working hand-in-hand with our customers to ensure their requirements are met with precision and creativity.
Our dedication to customer feedback is the cornerstone of our innovation process. We don't just build products; we forge solutions in response to real-world problems faced by facility maintenance personnel. This collaborative spirit has led us to design a range of versatile, durable, and effective products.
If a need arises that our current product line does not address, we are ready to step up and co-create a solution. By choosing Vandal Stop, customers are not just purchasing a product; they are engaging with a partner who values their input and is dedicated to solving their challenges.
The Cost of Vandalism is more than Price
The Vandal Stop Baseball Bat test has been seen online and at trade shows across America.
Because a Live Product Demo is not always possible, we have put together a detailed comparison of our Vandal Stop line of vandal resistant products and what would be the industry standard competing products available on the market today.
After this video, can any of our competition use the word tough?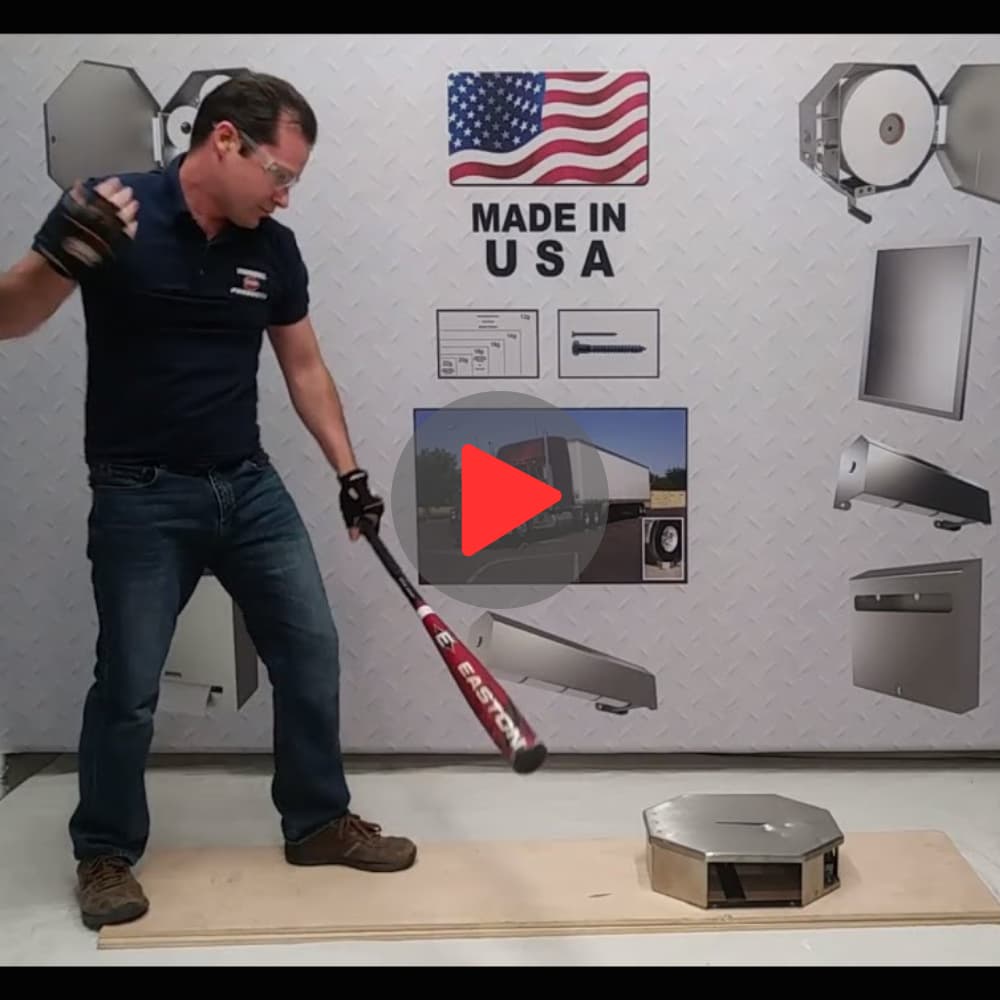 Save Money Year After Year
Investing in Vandal Stop products offers significant long-term savings, making them a wise choice for any customer dealing with vandalism.
While these products may initially appear as an investment, their design for durability and resistance to vandalism leads to reduced maintenance costs and replacement expenses over time.
The robust construction of our products ensures they can withstand harsh conditions and vandalism, minimizing the need for frequent replacements and repairs. This durability translates into cost savings, as it reduces the frequency of purchases and labor costs associated with installation.
Additionally, our products are designed to be versatile and non-proprietary, allowing the use of a variety of consumables without being restricted to specific, often more expensive, brands. This flexibility in consumable choice further enhances cost-effectiveness, enabling customers to select more affordable supplies that fit their budget.
The combination of strong construction, enhanced security features, and consumable flexibility makes Vandal Stop products a smart long-term investment, offering substantial savings and value to any facility facing challenges with vandalism.
Our Designs and Products are Unmatched
At Vandal Stop, our approach to product design is distinctively focused on addressing vandalism. We utilize robust 12-gauge stainless steel for unmatched durability and corrosion resistance, ensuring our products endure in challenging environments.
Our designs are versatile, accommodating a wide range of consumables, giving customers the freedom to choose without being restricted to proprietary options. Security is paramount in our design philosophy; we integrate heavy-duty anchoring bolts for solid wall attachments and employ hidden locks and protected padlocks for enhanced security.
This combination of durability, flexibility, and security in our design process distinctly sets our products apart, specifically catering to the needs of those combating vandalism.
Our Commitment to Non-Proprietary Dispenser Solutions
At Vandal Stop, our commitment to providing versatile and cost-effective dispenser products is unwavering. We understand the diverse needs of facilities, which is why our dispensers are designed to be non-proprietary, accommodating a wide range of toilet paper, soap products, and other restroom essentials from various vendors.
This approach not only ensures ease of replenishment but also significantly reduces operational costs, offering our customers the freedom to choose products that best fit their specific requirements.
Our focus is on innovation and customer satisfaction. We continuously strive to enhance the adaptability of our products, ensuring they remain compatible with an ever-expanding selection of consumables.
By choosing Vandal Stop, you're not just purchasing a dispenser; you're investing in a flexible, future-proof solution that aligns with your facility's evolving needs. Explore our range and discover how our non-proprietary solutions can streamline your facility's maintenance and upkeep.