AA-MVL-PL - Vandal Resistant Bezeled Mirror w/ Plexiglass
Our Vandal-Resistant Anti-Graffiti Restroom Security Mirror is engineered for maximum durability and safety in public restrooms. The inclusion of sacrificial plexiglass provides an additional layer of protection against graffiti and vandalism, ensuring the mirror remains functional and clear. Made from robust stainless steel, this mirror is built to withstand harsh conditions and frequent use. Its tamper-proof design makes it an ideal choice for high-traffic areas, offering a secure and maintenance-friendly solution. This security mirror not only maintains its aesthetic appeal but also ensures a safe and long-lasting reflective surface, making it a vital addition to any public restroom requiring enhanced security and maintenance features.
Note 1: Custom Sizes Available Upon Request, Call for Details
Note 2: See "Inspection Prior to Installation" in detailed description below for receipt and inspection details for warranty purposes.

Note 3: Custom size option on website is for reference only. $0 is NOT the actual purchase price - a quote must be generated.
Note 4: See "Mirror Surface" in detailed description below to understand the difference between this and a glass based mirror.
ADA Compliant

Warranty Guide, Care Instructions & Spec Sheet - See Spec Sheet Tab Below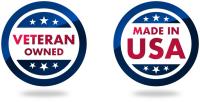 Public Restroom Facility Designed For:
Public Restrooms: In parks, transport hubs, and recreational areas.
Educational Institutions: Such as schools, colleges, and universities.
Retail Centers: Including malls and department stores.
Corporate Buildings: Ensuring a professional appearance in all facilities.
Hospitality Venues: Such as hotels and restaurants.
Healthcare Facilities: Including hospitals and clinics.
Government Buildings: Maintaining a clean and secure environment for public and employees.
Entertainment Venues: Like theaters and concert halls.
Shelters and Support Centers: Homeless shelters, rehabilitation centers, and community support facilities.
High-Risk Areas: Locations frequented by individuals prone to vandalism, such as certain public restrooms and unsupervised public spaces.
Anti-Vandalism Features:
Vandal Resistant: Designed to withstand intentional damage.
Made in USA: Guaranteeing quality and durability.
Torx Security Screw Lockable: Enhancing security with specialized screw heads.
No Glass Design: Utilizing mirror-polished stainless steel for safety and longevity.
Protective Sacrificial Plexiglass: Easily replaceable, protecting the primary reflective surface.
Cost-Effective Anti-Graffiti Solution: Economically safeguarding against vandalism.
Surface Mounted: Ensuring secure and straightforward installation.
Corrosion Resistant: Offering longevity in various environments.
Lifetime Functional Limited Warranty on Frame: Protecting your investment.
Alternate Names:
Vandal Resistant Stainless Steel Mirror
Anti-Graffiti Security Mirror
Safety Mirror with Sacrificial Plexiglass
No Glass Restroom Mirror
Corrosion Resistant Stainless Steel Mirror
Surface Mounted Safety Mirror
Mirror with Protective Plexiglass for Public Restrooms
Durable Mirror for Vandal Prone Areas
Restroom Mirror with Lifetime Warranty
Bezel Anti-Graffiti Mirror
Corrosion Resistance:
This product is available in 304L Stainless Steel and 316L Stainless Steel. For most restroom facilities, 304L is the most cost effective solution. It provides good corrosion resistance in non salt water environments. 316L is preferred by our customers that are located near or on the ocean. Navy ships and public facilities at beaches should opt for the 316L material.
ADA Compliance:
The AA-MVL mirror is ADA compliant when properly mounted and installed.
Customers of this Product:
Customers of this product include public schools, parks, National Forest Service, California Department of Transportation (CALTRANS), and the United States Navy.
Features:
Vandal Resistant
Made in USA
Torx Security Screw Lockable
NO GLASS! Reflective Surface is Mirror Polished Stainless Steel
Protective Sacrificial Plexi-glass
Cost effective way to combat Graffiti
Surface Mounted
Corrosion Resistant
Lifetime Functional Limited Warranty on Frame (12 gauge)
Dimensions:
18"x24", 18"x36", 24"x36", 24"x60", 48"x60"
*Custom sizes available upon request - Contact us for details. Please allow 1-2 business days to respond with a price quote.
**Custom size option on website is for reference only. $0 is NOT the actual purchase price - a quote must be generated.
Depth: 1⅛"
Model Names / Material Options:
AA-MVL-18x24-304L-16g
AA-MVL-18x36-304L-16g
AA-MVL-24x36-304L-16g
AA-MVL-24x60-304L-16g
AA-MVL-48x60-304L-16g
See Website for Additional Options
Mounting:
3/8" Surface Mounting Hole Placements
Inspection Prior to Installation:
Maintaining the flatness of Polished Stainless Steel Mirrors is crucial, particularly for larger sizes. Upon immediate receipt, it's imperative to photograph the unopened packaging from all angles to validate its condition upon arrival, ensuring any shipping damages are thoroughly documented. Before installation, inspect each mirror for quality, which involves carefully removing the protective shrink wrap while it's laid flat and meticulously examining the reflective surface for any abnormalities from potential physical impact. Some minor mirror abnormalities may be considered normal depending on size (see Mirror Surface notes below). While a video of the unpacking process is preferred, at a minimum, photos must be taken. Report any deformities to us before installation; post-installation, mirrors are deemed accepted by the contractor or end user.
Mirror Surface:
Though visually similar to glass mirrors, our stainless steel mirrors are crafted through distinct materials and processes to achieve a reflective finish. While generally indistinguishable from glass mirrors, occasional minor imperfections may slightly affect the reflected image. Primarily sold as a safer alternative to glass, especially where breakage poses a liability, these mirrors are ideal for high-impact or high-vibration environments like gyms, public restrooms, school hallways, or vehicle engine bays. Customers choose them, acknowledging the potential for minor reflective discrepancies, valuing their enhanced safety and durability in scenarios where traditional mirrors are prone to damage.
Installation:
Secure fixture to wall with appropriate 3⁄8" stainless steel anchoring hardware for optimal installation strength (not provided). Recommend 3⁄4" or greater back bracing for walls. Partitions may require T-nuts or other suitable anchoring devices.
Guide Specification:
Mirror shall be constructed with American made 16-gauge 304L with TIG welds, polished smooth and edges de-burred. Mirror shall not be cross-metal contaminated during manufacturing. Mirror shall have twelve 3⁄8" mounting holes. Mirror shall have replaceable sacrificial plexiglass. Mirror is warranted for materials and workmanship. 12 Gauge Frames shall include a lifetime functional limited warranty. See website for warranty details.
Surface Mount Mirror Shall Be:
Atlas American Model: AA-MVL
Spec 316L Stainless Steel for Military/Maritime
Made to Order Items
All of Vandal Stop Products are made by hand in the USA using American-sourced stainless steel. While some products might be available in stock, most are made to order. Our general estimated lead times are:
Quantity 1 - 10 = ~4 to 6 weeks for production
Quantity 11 - 50 = ~4 to 8 weeks for production
Quantity 51 - 100 = ~6 to 10 weeks for production
Quantity 101 - 200 = ~10 to 16 weeks for production
Quantity 200+ = Call for estimate
Winter Months Production
Due to holidays and winter weather, some production delays may occur during the months of November, December, January, and February.
Supply Chain
Due to increased demand, more time be required for production. If you have a critical delivery date requirement, please call or email to verify lead times prior to placing an order.
Stocked Items
For certain items that we sell often, we do our best to either keep inventory on the shelf or keep a constant production cue going. For items that are considered "stocked" we will generally be able to ship within 5 business days or less.
Why Are Stocked Items More Expensive?
We're adapting to your needs! While we specialize in made-to-order products, we recognize the growing demand for immediate availability. Adjusting to this requires foresight in demand anticipation, material procurement, initiating stock production, and warehousing—all incurring additional costs. Consequently, our stocked items are priced to reflect these overheads. For customers who can accommodate a production lead time, we're pleased to offer discounted pricing as a thank you for your flexibility.
Billing
Credit Card orders will be charged at the time of checkout. If you wish to be billed when your order ships, you can use the "Pay by Purchase Order" option on the payment section of checkout. You will be asked to upload a PDF copy of your Purchase Order along with a reseller certificate of tax exempt status is applicable. We will invoice you once your order has been shipped.