VSP-OFUx2 - Vandal Proof Two Roll Toilet Paper Dispenser
Our Vandal-Proof Two-Roll Horizontal Toilet Paper Holder with Full Shroud is the perfect solution for maintaining hygiene and efficiency in busy restrooms. Made from robust stainless steel, this anti-vandal dispenser accommodates two rolls and features a full shroud for added security against theft and vandalism. Its horizontal design is both space-efficient and user-friendly, making it a great choice for commercial settings. With a 10-year warranty, it promises durability and ease of maintenance, ensuring a well-stocked and orderly restroom experience.
Warranty Guide, Care Instructions & Spec Sheet - See Spec Sheet Tab Below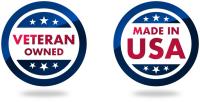 Public Restroom Facility Designed For:
Public Restrooms: Parks, public squares, and transport terminals.
Commercial Establishments: Shopping malls, restaurants, and offices.
Educational Institutions: Schools, colleges, and universities.
Recreational Venues: Amusement parks, museums, and event spaces.
Healthcare Facilities: Hospitals, clinics, and healthcare centers.
Government Buildings: Courthouses, municipal buildings, and public service areas.
Shelters and Support Centers: Homeless shelters, rehabilitation centers, and community support facilities.
High-Risk Areas: Locations frequented by individuals prone to vandalism, such as certain public restrooms and unsupervised public spaces.
Anti-Vandalism Features:
Easy Service Design: Known as the "Flip Front Unit" for its easy-access design.
Vandal Resistant: Engineered with a shrouded lock to deter vandalism and theft.
Spray and Drip Deflective: Protects the paper during hose-down cleaning.
Corrosion Resistant: Available in 304L and 316L Stainless Steel for optimal corrosion resistance.
Versatile Accommodation: Accepts all toilet paper rolls up to 5-1/8" diameter.
Suitable for Various Paper Types: Compatible with both standard core and coreless paper products.
Surface Mounted: Ensures secure and stable installation.
Industry-Leading Warranty: Backed by a warranty against vandalism.
Alternate Names:
Vandal Resistant Toilet Paper Holder
Two Roll Toilet Paper Dispenser
Stainless Steel Toilet Paper Holder
Flip Front Toilet Paper Holder
Durable Toilet Paper Dispenser
Corrosion Resistant Paper Holder
Toilet Paper Holder with Warranty
Protective Shroud Toilet Paper Holder
Surface Mounted Paper Holder
Versatile Toilet Paper Dispenser
Corrosion Resistance:
This product is available in 304L Stainless Steel and 316L Stainless Steel. For most restroom facilities, 304L is the most cost effective solution. It provides good corrosion resistance in non-salt water environments. 316L is preferred by our customers that are located near or on the ocean. Navy ships and public facilities at beaches should opt for the 316L material.
Toilet Paper Capacity:
The VSP-OFUx2Two Roll Toilet Paper Holder is a two roll toilet paper dispenser accommodates all toilet paper rolls up to 5-1/8" diameter. It is suitable for both standard core and coreless paper products. This washroom accessory is also drip deflective that will protect the paper from errant water during hose down cleaning.
ADA Compliance:
The VSP-OFUx2 toilet paper dispensers is ADA compliant when properly mounted and installed.
Customers of this Product:
Customers of this product include Public Schools, Parks, National Forest Service, California Department of Transportation (CALTRANS), and the United States Navy.
Specifications:
Width: 15-3/8"
Height: 6-3/8"
Depth: 5-1/4"
Weight: 10lbs
Material Options:
14-gauge 304L Stainless Steel
12-gauge 304L Stainless Steel
12-gauge 316L Stainless Steel
Mounting:
3/8" Surface Mounting Hole Placements
Capacity:
2 - 5" Standard Rolls
2 - 5" High Density Rolls
Installation:
Secure fixture to wall with appropriate 1⁄2" stainless steel anchoring hardware for optimal installation strength (not provided). Recommend 3⁄4" or greater back bracing for walls. Partitions may require T-nuts or other suitable anchoring devices. When possible it is recommended that units be through bolted back-to-back providing optimal installation strength.
Guide Specification:
Dispenser shall be constructed with American made, 12 or 14 gauge 304L or 12 gauge 316L stainless steel with TIG welds, polished smooth and edges de-burred. Dispenser shall not be cross-metal contaminated during manufacturing. Dispenser housing shall protect tissue paper from top and sides, and have protective shroud for regular padlock use. Dispenser shall have four 1⁄2" mounting holes. Dispenser shall accept multiple paper styles, be drip deflective and 12 gauge units shall include a lifetime functional limited warranty.
Surface Mount 2 Roll Dispenser shall be:
Vandal Stop Products Model: VSP-OFUx2
Spec 316L Stainless Steel for Military/Maritime
Made to Order Items
All of Vandal Stop Products are made by hand in the USA using American-sourced stainless steel. While some products might be available in stock, most are made to order. Our general estimated lead times are:
Quantity 1 - 10 = ~4 to 6 weeks for production
Quantity 11 - 50 = ~4 to 8 weeks for production
Quantity 51 - 100 = ~6 to 10 weeks for production
Quantity 101 - 200 = ~10 to 16 weeks for production
Quantity 200+ = Call for estimate
Winter Months Production
Due to holidays and winter weather, some production delays may occur during the months of November, December, January, and February.
Supply Chain
Due to increased demand, more time be required for production. If you have a critical delivery date requirement, please call or email to verify lead times prior to placing an order.
Stocked Items
For certain items that we sell often, we do our best to either keep inventory on the shelf or keep a constant production cue going. For items that are considered "stocked" we will generally be able to ship within 5 business days or less.
Why Are Stocked Items More Expensive?
We're adapting to your needs! While we specialize in made-to-order products, we recognize the growing demand for immediate availability. Adjusting to this requires foresight in demand anticipation, material procurement, initiating stock production, and warehousing—all incurring additional costs. Consequently, our stocked items are priced to reflect these overheads. For customers who can accommodate a production lead time, we're pleased to offer discounted pricing as a thank you for your flexibility.
Billing
Credit Card orders will be charged at the time of checkout. If you wish to be billed when your order ships, you can use the "Pay by Purchase Order" option on the payment section of checkout. You will be asked to upload a PDF copy of your Purchase Order along with a reseller certificate of tax exempt status is applicable. We will invoice you once your order has been shipped.