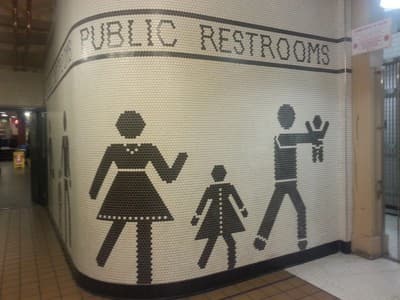 Public Restroom Reviews
Public restrooms are those places that are often not thought about until you are in desparate need of one. The purpose of this blog is to highlight interesting facilities and to give them a "flushy" rating to provide a humours look at America's public facilities.
Al Castello is one of my greatest Yelp finds. This family owned restaurant has some of the best Italian food in San Jose and best of all it's a small mom and pop operation. 

Our trip to Lake Trinity was the final destination of our road trip. We found out that we were in for a summer heatwave. The campground was empty so the bathrooms were extremely clean.

The second bathroom at Alpine View Camp Ground was identical to the first bathroom review I posted previous to this one. The only real difference was this bathroom had a view of the dry lake in front.

Nestled in the idyllic down town of Healdsburg, CA, Bear Republic Brewing Company is a great place to grab a good bite to eat. Their bathroom also was a pleasant surprise artistically!

After our backpacking trip, Bear Valley Lodge was the first destination we stopped at to consume a nice big pizza! I made a quick stop off at the bathroom, curious what it would like like.

A Jewish congregation is a bit of an odd place to come up with a bathroom review but opportunity came and I took it. This facility was very clean and modern with no signs of vandalism or graffiti.

Bidwell Mansion is one of the iconic places in Chico, California. Built by John Bidwell for his wife Annie, it was the center of the Rancho del Arroyo Chico. The bathrooms are as grand as the mansion!

The final leg of our road trip involved the long road south on I5 in Northern California. Needing to get some food for the trip, we stopped at a Burger King. The bathroom was surprisingly very clean.

My dad is a huge fan of beer so the last time I visited him we stopped at the Chico Burgers & Brew. I had a sweet tooth so I went with a milk shake & burger, both very good and worth the visit!

The Cable Car Museum of San Francisco is a great tourist destination for anyone visiting San Francisco. Free to visit, its a quick stop into one of the most charming aspects of San Francisco history.